küchen-quelle.
A new design for the kitchen designers.
küchenquelle has been fulfilling kitchen dreams since 1978. In 2021, we fulfilled their wish for a new brand identity.
Disciplines
Corporate Design
Brand Positioning
Digital
Agency Areas
Strategie
Key Visual
OOH
POS
From Planner to Understander
After a few troubled years and internal restructuring, it was time to relaunch the somewhat forgotten brand for a broader – and younger – audience. The main aim was to reposition the brand clearly and create an independent branding. The design was subjected to a soft relaunch, the existing logo was broken up and refined. From now on, the word mark will be used freestanding in a straight font. The classic rhombus has been further developed into the diamond and now also serves as a design area for text or an image. And it is especially the new, much more emotional imagery with storytelling that deserves more visibility.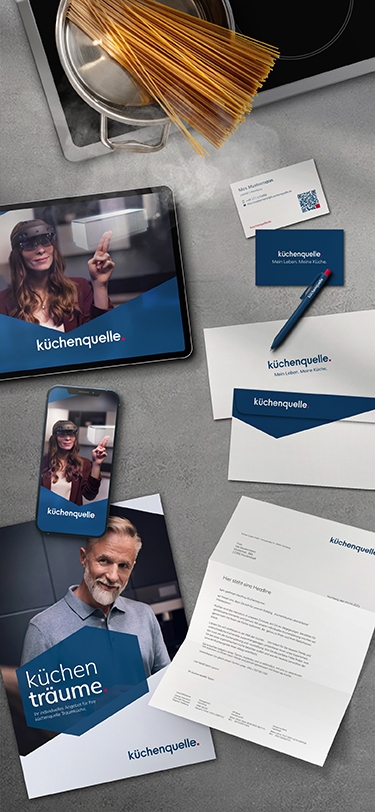 The kitchen is where life happens.
Kitchens are the heart of a home. Here, people meet, share, live, laugh, argue, reconcile. A highly emotional topic that has so far been sold primarily through rational arguments. It's the individuality that convinces customers most to plan their kitchen with küchenquelle. We have translated this idea into an emotional claim: "My life. My kitchen." küchenquelle does not position itself simply as a planner, but as a customer understander who responds to people's living environments and needs like no other. The unique thing about küchenquelle: The comfortable home planning, right where life actually happens.
Kitchen stories written by life.
Kitchen love? küchenquelle.
The best parties take place in the kitchen and the most beautiful stories are still written by life itself. With a catchy and concise headline mechanism, it was possible to translate this empathetic brand positioning of küchenquelle into communication. In a charming way, headlines in combination with the modern, life-affirming visuals tell little stories from everyday life - experienced in a dream kitchen from küchenquelle.
Nowadays kitchens are planned digitally.
The existing küchenquelle website was therefore consistently adapted to the new corporate design. The distinctive diamond element serves as a stage for storytelling and visually interweaves the website with the content that is played out in social media. In this way, users experience a stringent journey from the first touchpoint. To do this, we continuously expand the content on the website and thus deliver real added value that invites users to visit again and again. Everything, of course, designed and implemented mobile first.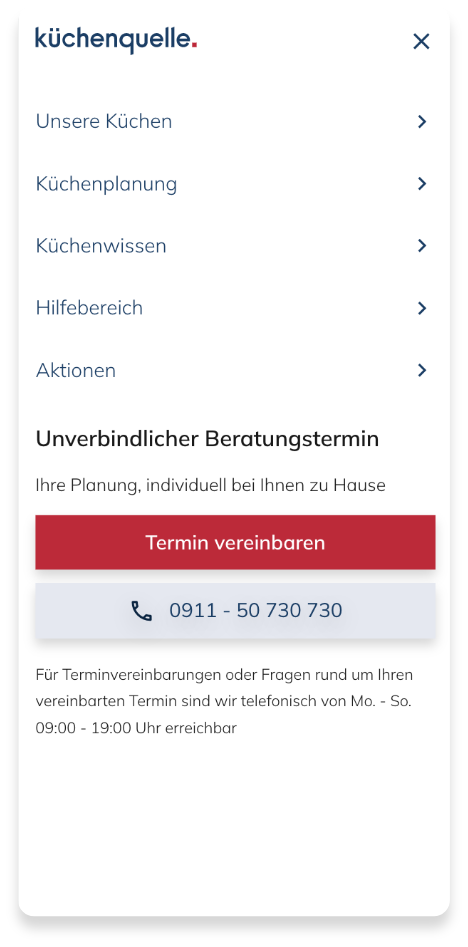 Target group-oriented, charming and with strong sales offers: Social media campaigns that generate new leads with strong storytelling.
Would you like to know more about this exciting topic? Then get in touch with us!